punjab tet notification 2019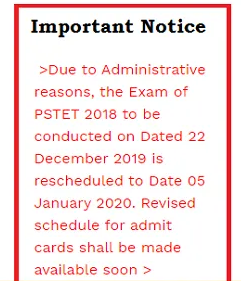 Follow the given steps for completing the online form Punjab TET 2019.

Click on the link mentioned below and you will be redirected to the CBSE official site directly.
Now Scroll down and Click on Punjab TET Application Form 2019
Now Fill out all the required details i.e Name, Father's name, Mother's name etc.
Now Choose the exam centre and mediumin which you want to give the Punjab TET Application Form 2019
Now fill in your educational qualifications and all the degree's you hold
After that Fill in your communication address and Upload your Photo and signature
After filling all the required details and uploading photo/signature You'll be redirected to payments page. Pay your fee through Debit/Credit card/E-Challan.
Click on submit and Your form will be submitted successfully.
How children think and learn; how and why children 'fail' to achieve success in school performance
Basic processes of teaching and learning ; children's strategies of learning; learning as a social activity; social context of learning
Child as a problem solver and a 'scientific investigator'
Alternative conceptions of learning in children, understanding children's 'errors' as significant steps in the learning process
Cognition and Emotions
Motivation and Learning
Factors contributing to learning – Personal and environmental
The question paper of PSTET will include MCQ type questions .
Each question carries 1 mark.
No Negative Marking.
There will be 02 papers in Punjab Teacher Eligibility Test 2019.
PSTET Paper-I: For Primary School Teacher for Class 1st to 5th
PSTET Paper-II: For Upper Primary Teacher for Class 6th to 8th
The Exam will be followed by an Interview Round.
PSTET Paper 1 Exam Pattern:

Reading unseen passages
PSTET exam was held in two sessions for Paper-I and Paper-II. The PSTET Paper-I is for Class I-V teachers; while the PSTET Paper-II is for Class VI-VIII teachers. Candidates who would qualify the PSTET Paper-I & Paper-II will become eligible for the recruitment process of Punjab Government Schools.
Relaxation up to 5% in the qualifying marks in the minimum Educational Qualification for eligibility to apply shall be allowed to the candidates belonging to reserved categories, such as SC/ST/OBC/Differently abled.
*Diploma/Degree Course in Teacher Education: For the purposes of this Notification, a diploma/degree course in teacher education recognized by the National Council for Teacher Education (NCTE) only shall be considered. However, in case of Diploma in Education (Special Education) and B.ED. (Special Education), a course recognized by the Rehabilitation Council of India (RCI) only shall be considered.
Training to be undergone: A person with D.Ed. (Special Education) or B.Ed. (Special Education) qualification shall undergo, after appointment an NCTE recognized 6-month Special Programme in Elementary Education.
The minimum qualifications referred above apply to teachers of Languages, Social Studies/Social Science, Mathematics, Science etc. In respect of teachers for Physical Education, the minimum qualification norms for Physical Education teachers referred to in NCTE Regulation, dated 3rd November, 2001 (as amended from time to time) shall be applicable. For teachers of Art Education, Craft Education, Home Science, Work Education, etc. the existing eligibility norms prescribed by the State Governments and other school managements shall be applicable till such time the NCTE lays down the minimum qualifications in respect of such teachers.
Candidates who are appearing in the final year of Bachelor Degree in Education or Diploma in Elementary Education etc. are provisionally admitted and their PSTET Certificate shall be valid only on passing the aforesaid Examinations.
The candidate not having any of the above qualification shall not be eligible for appearing in Punjab State Teacher Eligibility Test.
The candidates having the following minimum educational qualification are eligible for Appearing in Punjab TET 2018 Notification Exam.
150
Language – 2 (English)
References:
http://recruitmentresult.com/punjab-tet-notification/
http://m.jagranjosh.com/articles/pstet-punjab-tet-pstetnet-registration-eligibility-dates-exam-pattern-syllabus-cutoff-result-1573027746-1
http://www.govtexamsadda.com/punjab-tet-2018-notification-pstet/amp/
http://www.kvsrodelhi.org/notifications/punjab-tet-2019/
http://www.bgsbuniversity.org/pstet-net-result-2020/