new coins launched by rbi 2018

So, the claim by the social media post and other similar messages flooding your WhatsApp box is false. The RBI has not issued new Rs 1,000 currency coins.
Ever since the demonetisation on November 8, 2016, there has been a deluge of misinformation about new currency notes. Be it the 'computer chip' in the new Rs 2,000 note, or new coins of unique denominations, social media is flooded with false claims. Not a long back, there was a story doing rounds that the Narendra Modi government is planning to launch new currency notes to mark the anniversary of 2018's note ban. Just like any other social media forward that 'news' also turned out to be fake. Now, another message has gone viral that the Reserve Bank of India has launched new Rs 1,000 coin.
The front face of the coin will have 'Ashoka Pillar' engraved on it.
While small denomination coins are going out of fashion, the government is on a spree to introduce new denominations. Post the revival of Rs 10 coin, the RBI is set to roll out a coin of Rs 350 denomination to mark the 350th Birth Anniversary of Shri Guru Gobind Singh Ji.

The government released new Re 1, Rs 2, Rs 5, Rs 10 with refreshed design and attention towards the visually impaired citizens. The government has also issued new Rs 20 coins. Coins in this new series have been designed by the National Institute of Design with several differentiating features to make it easier for visually-impaired individuals to identify them. Not only distinctive markings, the coins will now get bigger and weigh more with the increase in denomination to make recognising them easier.
The new Rs 10 coin weighs 7.74 grams. It will have a diameter of 27mm and 100 serrations on its edge. Similar to the Rs 10 coin in circulation, the new series coin will also have two rings. The outer ring will be made of nickel brass, similar in composition to the new Rs 5 coin with 75 per cent copper, 20 per cent zinc and 5 per cent nickel. The inner ring will be made of nickel silver, which will contain 65 per cent copper, 15 per cent zinc and 20 per cent nickel.
Images of various denominations of notes and coins are being circulated on social media with a claim that these are new currency released by Reserve Bank of India (RBI) as legal tender (ie, they can be used as money).
Further RBI in a press release dated 26 June 2019 had notified that coins of 50 paise, Rs 1, 2, 5 and 10 denominations of various sizes, themes and designs are in circulation presently.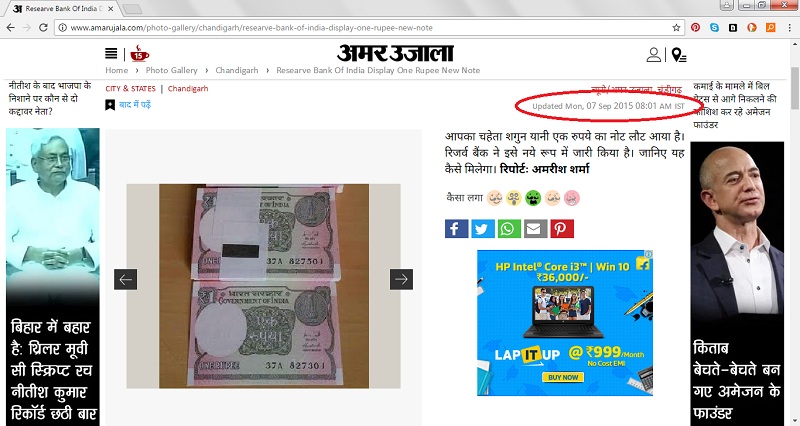 Turns out the coins are not legal tender but were issued as commemorative coins much to the delight of coin enthusiasts.
So what's the truth.
References:
http://economictimes.indiatimes.com/news/economy/policy/rbi-to-launch-rs-350-coin-all-you-want-to-know/articleshow/63475974.cms
http://m.businesstoday.in/story/new-re-1-rs-2-rs-5-rs-10-rs-20-coin-issued-all-you-need-to-know/1/325552.html
http://www.thequint.com/news/webqoof/rbi-releases-new-125-rs-coin-1000-rupee-notes-fact-check
http://www.boomlive.in/did-rbi-issue-rs-20-rs-150-rs-100-rs-1000-coins-a-factcheck/
http://m.businesstoday.in/story/new-re-1-rs-2-rs-5-rs-10-rs-20-coin-issued-all-you-need-to-know/1/325552.html