momoscholarship
Merit-cum-Means Scholarship for Technical Courses CS and Professional
Educational Qualification: Students who have been admitted at the graduate or postgraduate level to technical/professional classes are qualified to apply. In the previous final examination, students must have obtained not less than 50 percent marks.
Family Income: The annual family income must not be more than INR 2.5 Lakhs from all sources.
One copy of the application for scholarship in the prescribed form (separate application forms prescribed for 'fresh' and renewal of scholarship by the concerned States/UTs).
One copy of the passport size photograph with signatures of the student thereon (for fresh scholarship).
One attested copy of certificates, diploma, degree etc. in respect of all examinations passed.
An income declaration by the self-employed parents/guardians, stating definite income from all sources by way of an affidavit on non-judicial stamp paper. Employed parents/guardians are required to obtain income certificate from their employer and for any additional income from other sources, they would furnish declaration by way of an affidavit on non-judicial stamp paper.
Proof of permanent residence.
A receipt in acknowledgement of the scholarship in the previous year on the form attached to the application duly counter-signed by the Head of the Institution concerned, if the application was in receipt of a scholarship under this scheme in the preceding year.
The State department should satisfy itself that the student belongs to a particular minority community.
Application complete in all respects shall be submitted to the Head of the Institution, being attended or last attended by the candidates and shall be addressed to an officer specified for this purpose by the Government of State/ Union Territory to which the student belongs, in accordance with the instructions issued by them from time to time.
The rate of scholarship will be as under :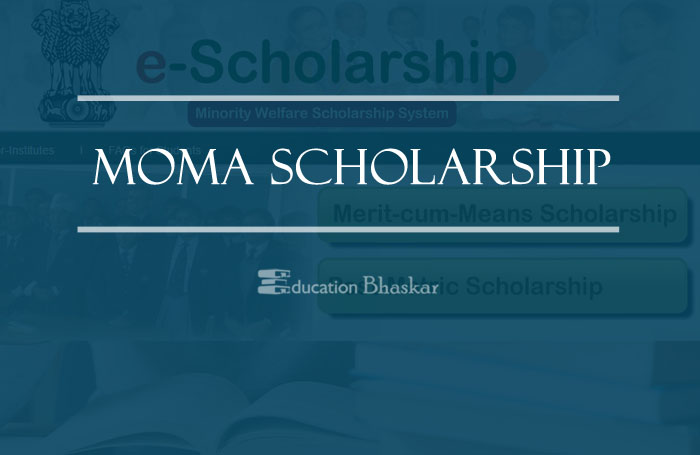 Under this MOMA Mean cum Merit Scholarship Scheme, those students can take financial Support who belongs to minority communities and wanna pursuing the professional and technical courses. Those candidates belong to belonging to Minority communities wish to continue or wanna pursue undergraduate(UG), postgraduate (PG), technological and professional courses.
Eligibility Criteria for Means cum Merit Scholarship:

MOMA Scholarship 2019 is Merit cum Means Scholarship by Ministry of Minority Affairs commonly known as MOMA Scholarship. Merit cum Means Scholarship Scheme was launched with the aim to support the meritorious students, who are not financially strong and who belong to the minority community and want to pursue their educational career and courses for higher and professional/technical courses. The application form for MOMA Scholarship 2019 is available now and the candidates can apply online through the National Scholarship Portal. MOMA Merit cum Means Scholarship will be given to the candidates whose family income is less than 2.5 lakhs per annum. Apart from renewal, 60,000 fresh scholarship will be given under Merit cum Means Scholarship 2019. This page gives information on MOMA Merit cum Means Scholarship, the Application Process, Eligibility Criteria, Rewards and other important details. Scroll down to read more on MOMA Scholarship 2019.
Maulana Azad Scholarship for Girls A Scholarship by Ministry of Minority Affairs (MOMA) for girls who have passed class 10 and taken admission in Class 11.
The Mami Scholarships Hakanan ana san su da Merit cum Means Skolashif aka tsara don samar da kudade don ɗalibin da ke bin manyan karatunsu na Ilimi a kowane Cibiyar da aka zaɓa kuma ana iya samun dama ga rukunin yanar gizo na National Scholarship Portal (NSP) a nan Skolashif.gov.in
Biyan kuɗi don tallafin karatu na Moma ya dogara ne da yadda cikakkun takardunku suke. Da fatan za a yi duk abin da za'a ɗauka don tabbatar da cewa an ɗora duk takaddun da ake buƙata, har ma da waɗanda ke da alamar "Zabi ne". Ga takardu:
References:
http://www.nationalmeritscholarships.com/moma-scholarship.html
http://educationbhaskar.com/scholarships/moma-scholarship/4181/
http://www.motachashma.com/scholarships/moma-scholarship-merit-cum-means-scholarship.php
http://worldscholarshipforum.com/ha/moma-malaman-makarantar-sakandare-na-Indiya-dalibai/
http://www.learncbse.in/moma-scholarship/