momascolarship
March 4, 2020 by Bhagya
To apply for national minority scholarships, learners belonging to minority groups must study transparently in India in a state or private institution chosen and notified by the State / Union Territory Administration involved. The details of the requirements for eligibility are outlined below.
Visit the official website at www.scholarships.gov.in
Choose a suitable link from "On-Board Schemes" section.
Carefully Study the details and click on the "Student Login-(Fresh / Renewal)" link from the "Academic Year 2020 – 2021" section.
Must fill MOMA scholarship Application Form in a proper manner with all necessary information and without any mistake.
In the final step, you have to submit MOMA scholarship Online Application Form on or before the closing date of this notification.
At last, get a printout of the filled application form and keep it safe for future needs.
These are official Steps to successfully apply for the Moma Scholarships.

Official Authorities of MOMA Scholarship released Minority Scholarship Selection List 2019-2020 on official website. All shortlisted students will get MOMA Scholarship Amount direct to bank account through PFMS.
What is MOMA / Minority Scholarship ?
Who can apply for scholarship ?
What documents have to required for Minority Scholarship ?
What is the Last Date of MOMA Scholarship ?
What are types of Minority Scholarship ?
How Can I Apply For Scholarship ?
What Amount will I get under Moma Scholarship ?
How can I check Minority Scholarship Status ?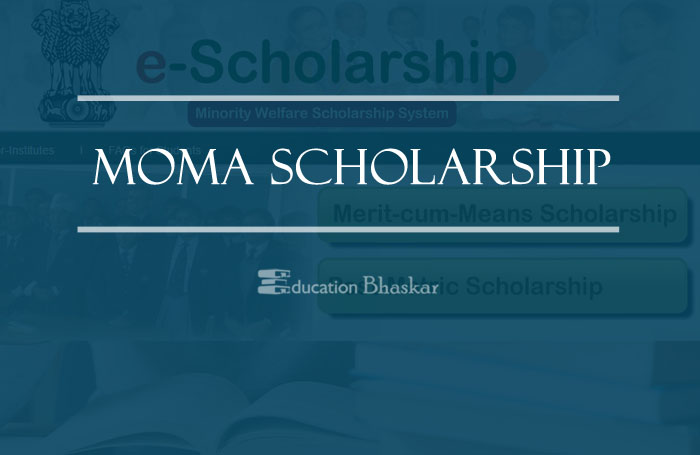 Online Application Forms/Registration of MOMA Scholarship 2019 & Sanctioned list: Some Students belong to the low-income family and were/are not able to continue their Study or Higher Education only due to lack of money. Those candidates are invited to apply through the Offline/Online Application forms in the prescribed format may be submitted to the Secretary of the Department of the concerned State Govt/UT administration, dealing with minority welfare, through the institutions where the students are pursuing technical/professional courses. The student must submit their applications to the state which he/she belongs to and not to the state where the institution where he/she is studying, is located.
Those students who have taken admission to a recognised college/university to pursue technical/professional courses, by a competitive examination
Students should have minimum 50 % marks at higher secondary/graduation level to be an eligible candidate.
Selection of eligible students will be assigned strictly on merit basis.
The rate of scholarship will be as under :
One copy of the application for scholarship in the prescribed form (separate application forms prescribed for 'fresh' and renewal of scholarship by the concerned States/UTs).
One copy of the passport size photograph with signatures of the student thereon (for fresh scholarship).
One attested copy of certificates, diploma, degree etc. in respect of all examinations passed.
An income declaration by the self-employed parents/guardians, stating definite income from all sources by way of an affidavit on non-judicial stamp paper. Employed parents/guardians are required to obtain income certificate from their employer and for any additional income from other sources, they would furnish declaration by way of an affidavit on non-judicial stamp paper.
Proof of permanent residence.
A receipt in acknowledgement of the scholarship in the previous year on the form attached to the application duly counter-signed by the Head of the Institution concerned, if the application was in receipt of a scholarship under this scheme in the preceding year.
The State department should satisfy itself that the student belongs to a particular minority community.
Application complete in all respects shall be submitted to the Head of the Institution, being attended or last attended by the candidates and shall be addressed to an officer specified for this purpose by the Government of State/ Union Territory to which the student belongs, in accordance with the instructions issued by them from time to time.
References:
http://worldscholarshipforum.com/moma-scholarships-indian-students-momascholarship-gov/
http://www.jansoochnaportal.in/moma-scholarship/
http://educationbhaskar.com/scholarships/moma-scholarship/4181/
http://www.nationalmeritscholarships.com/moma-scholarship.html
http://educationbhaskar.com/scholarships/moma-scholarship/4181/