momaschoolarship
The Moma Scholarships also are known as Merit cum Means Scholarships are designed to provide funding for Student pursuing their Higher Education Studies at any Institution of choice and can be accessed on the National Scholarship Portal (NSP) website here scholarships.gov.in
Categories of the Moma Scholarships: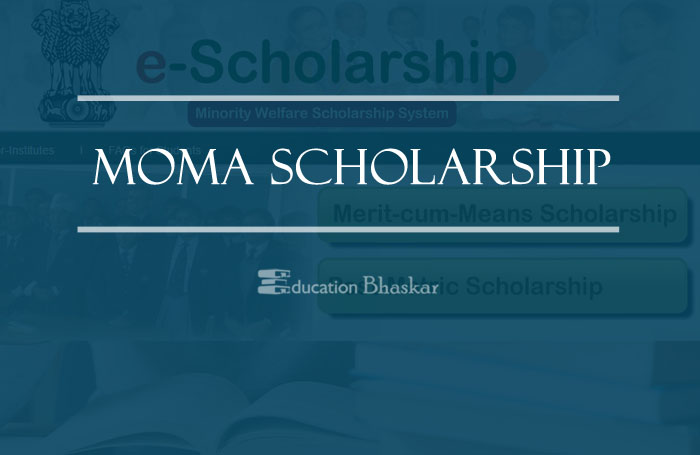 Educational Records: Students who are going to apply should have marked 50% or above in the previous final examination.
Annual Income: The annual income (from all sources) of the student's parents or guardian should be less than Rs. 2 lakh. The Scholarships to be provided in the ascending order from the lowest order from Below Poverty Line(BPL) Families.
Only two students from every family can take advantages o this scholarship.
Reservation for Girls Students: 30% of the scholarship will be reserved for girl students.
Those students who have taken admission to a recognised college/university to pursue technical/professional courses, by a competitive examination
Students should have minimum 50 % marks at higher secondary/graduation level to be an eligible candidate.
Selection of eligible students will be assigned strictly on merit basis.

Applicants who wants to apply for MOMA Scholarship can find answers of some following questions:
TABLE OF CONTENT
Q.No. 3. How can I apply online for scholarship?:
Answer:
The Post Matric and Merit cum Means based Scholarship Schemes are online Schemes. In order to apply online please visit the website through URL www.momascholarship.gov.in link to the site isalso provided in the website of the Ministry of Minority Affairs, i.e. www.minorityaffairs.gov.in.
Q.No. 1. Who are eligible to apply for Post Matric and Merit-cum Means based Scholarship Schemes?
Ans: Students belonging to notified minority communities viz. Muslim/Christian/Sikh/Buddhist/Jain/Parsi (Zoroastrian) studying in India only and fulfilling the Scheme guidelines are eligible to apply for these scholarships.
For MOMA Scholarship Post Matric:
Eligibility:
It awarded to the students who have secured maximum 50% marks in the previous final exam and annual income of their parents/guardian from all sources does not exceed Rs. 1 lakh.
Duration:
It will be provided for the complete course; however, maintenance allowance will be given for a period not exceeding 10 months only in an academic year.
References:
http://educationbhaskar.com/scholarships/moma-scholarship/4181/
http://www.jansoochnaportal.in/moma-scholarship/
http://www.scholarships.net.in/1155.html
http://www.sarkarinaukricareer.in/2016/07/moma-scholarship.html
http://www.jansoochnaportal.in/moma-scholarship/