moma scholarship date 2019
Pre-Matric Scholarship for Minorities
Post-Matric Scholarship for Minorities
Address Details:
Note: All the information provided about the Ministry of Minority Scholarship Scheme 2019 is based on last year notification. So first wait to release the MOMA Scholarship 2019 Notification and official dates & other information will be update asap.

MOMA Scholarship or Minority Scholarship is scholarship provided by Ministry of Minority Affairs, India. Moma Scholarship is available for minority communities of Muslim, Sikh, Christian, Buddhist, Jain and Zoroastrian (Parsi). All eligible candidates can apply for Pre-matric scholarships, Post-matric scholarships and Merit-cum-Means scholarship for Professional and Technical Courses. Selected students will get Rs. 20,000 per year.
All the students who has been applied for Minority Scholarship can check application form status from National Scholarship Portal. Students are informed that MOMA Scholarship will send directly to candidate's bank account by PFMS .
The scholarship amount to pre-matric students consist of admission fee, tuition fee and maintenance fee depending on the level of study of the applicant. The scholarship is provided for a total of 10 months in an academic year. The selection for MOMA scholarships for pre-matric students is based on the weightage given to poverty and marks. Those students who are in higher need of scholarship are given preferences during selection provided they submit their Income proof in form of their family Income Certificate. In case of same income, the next criteria are 'Date of Birth'. Those having a date of birth earlier are preferred.
Parent/Guardian's income certificate issued by a competent authority
Self-attested community certificate
Self-attested certificate of previous qualifying exam/board mark sheet
Bank Account details and Aadhaar Card
Residential/Domicile certificate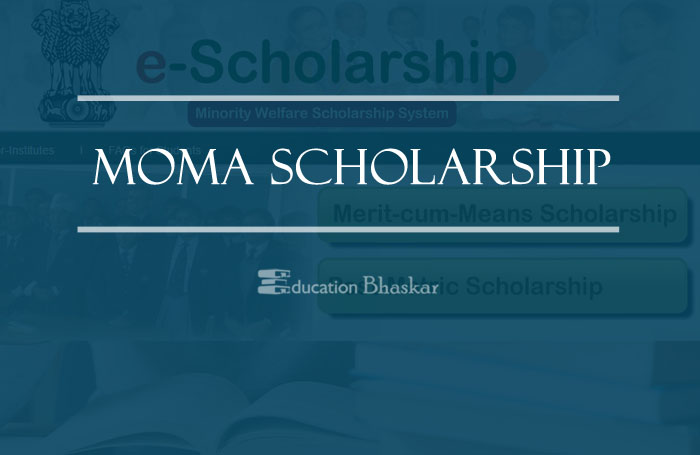 Educational Records: Students who are going to apply should have marked 50% or above in the previous final examination.
Annual Income: The annual income (from all sources) of the student's parents or guardian should be less than Rs. 2 lakh. The Scholarships to be provided in the ascending order from the lowest order from Below Poverty Line(BPL) Families.
Only two students from every family can take advantages o this scholarship.
Reservation for Girls Students: 30% of the scholarship will be reserved for girl students.
Eligibility Criteria for Post Matric Scholarships:
References:
http://scholarshipscheme.in/moma-scholarship-scheme/
http://www.jansoochnaportal.in/moma-scholarship/
http://preptube.in/scholarship/moma-scholarships/
http://educationbhaskar.com/scholarships/moma-scholarship/4181/
http://scholarshipscheme.in/moma-scholarship-scheme/