mangal to kruti dev converter online
It's very simple to use just type in Devanagari Script by using Google input tools or your default keyboard then click on the button [ UNICODE TO KRUTIDEV ↓]
the moment you click on that button it automatically going to generate the Krutidev version of that Unicode. After that just copy the krutidev code and paste in your software whatever it's Photoshop or any video editing software and then select the kruti font (Remember Kruti Dev fonts must be installed in your system).

Its interface is user-friendly and very intuitive. The main window is split in 2 fields. On the left-hand side, you are supposed to load the source file for the text you wish to convert. Alternatively, you can directly write by yourself the text that you want to convert. The converted document will be displayed on the right-hand side. Once the source document is ready for conversion, all you have to do is press the Start Conversion (Kruti) button. There is no need to worry about the size of the document, as this software is capable to convert up to 100 pages in only a few seconds. Once the conversion is finished, you can process the output document (save, open, edit, etc.), by using MS Word, or even by using an Internet browser.
Mangal to Kruti Converter is a Unicode, font style converter for texts written using fonts as Hindi, Nepali, Marathi and all other Devanagari scripts. This software is suitable for all those users who work with any of the above-mentioned styles, and who need to convert them into transliterated Latin script.
Mangal to Kruti is all new UNICODE CONVERTER FOR HINDI, MARATHI, NEPALI and Other DEVNAGRI SCRIPTS. It can easily convert Mangal (Arial Unicode MS ) Unicode font to Kruti Dev and saves your precious time. It has the capability to leave English as it is so you don't have to reformat your document after conversion. You can copy paste the data to any file or you can import text from RTF/TXT files for conversion. It converts data accurately and with lightening speed and can convert 100's of pages in a very short time. It is reliable, fast and accurate. Mangal to Kruti Converter is useful for DTP Operators and Printers because loads of DTP softwares like PageMaker/Illustrator still does not support Hindi Unicode.
It can process hundreds of pages of text written in different devnagri scripts like Hindi, Sanskrit, Marathi, Maithili, Nepali, Konkani etc. written in Mangal font. It convert Unicode font (Mangal) to kruti font in single process. While converting Mangal font to kruti font, this tool leaves out English text in the file unchanged. As an Example if your client provides you text in Hindi Unicode for Typesetting and you are unable to put the same in PageMaker if this is the case Mangal to Kruti Converter helps you to convert the Unicode Hindi Text into Kruti Dev ANSI format and you can typeset your file easily.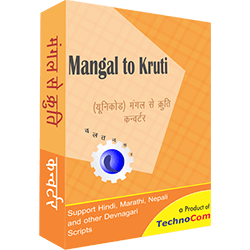 Product Code: TCS-DC1029
Mangal to Kruti converter tool can switch Mangal font to Kruti Dev. This Hindi Unicode Converter supports languages of Devnagri script like Hindi, Marathi, Maithili, Nepali and other languages that are written in Devnagri script. User can drop .RTF/.TXT files as much as they want and can convert their fonts quickly. This Unicode to Hindi Converter has the latest and amazing features that can't be found in any other converter. This Unicode to Kruti converter even has option to save the files in .RTF/.TXT formats after the fonts have been converted in them. The English words present in the files are left untouched automatically by the software so that user does not have to go on searching for them. This tool can be very advantageous for the DTP operators and printers. Reason behind that is that DTP software like PageMaker/Illustrator don't support Mangal font. This tool has emerged as a complete solution for the difficulties like this. It is the best Hindi Unicode Converter.


Shareware 4.17 MB
Used to test your computer's Unicode support and your font's support for particular characters, or as a learning to to explore the Unicode character set. Displays in Courier, TimesRoman, Symbol, Dialog and Helvetica. copyright (c) 1996-2008 Nic Fulton [email protected] of.
References:
http://mangal-to-kruti-converter.software.informer.com/
http://www.technocomsolutions.com/mangal-to-kruti.html
http://www.technocomsoft.com/mangal-to-kruti-converter.html
http://mangal-to-kruti-converter.windows10compatible.com/
http://www.unicodetokrutidev.com/