iti admission haryana

Counselling will be the final step of the admission procedure. The final admission to all qualified candidates will depend upon various factors like education qualification, merit list, rank & document verification.
Haryana ITI 2020 Admission will be offered to eligible candidates. Selected & qualified candidates will get admission either in the first round of counselling or second. It will be mandatory to attend all rounds & fulfill all formalities for the admission.
Carpenter
Computer Hardware and Network Maintenance
Draughtsman (Civil)
Draughtsman (Mechanical)
Electrician
Electronics Mechanic
Electroplater
Fitter
Forger and Heat Treater
Foundryman Technician
Information Communication Technology System Maintenance
Information Technology
Instrument Mechanic
Interior Design and Decoration
Laboratory Assistant (Chemical Plant)
Lift and Escalator Mechanic
Machinist
Machinist (Grinder)
Mechanic (Motor Vehicle)
Mechanic (Refrigeration and Air Conditioning)
Mechanic (Tractor)
Mechanic Agricultural Machinery
mechanic auto body painting
mechanic auto body repair
mechanic auto electrical and electronics
mechanic consumer electronics appliances
mechanic diesel
mechanic machine tools maintenance
painter general
pattern maker
plastic processing operator
plumber
sheet metal worker
surveyor
technician power electronic system
tool & die maker (dies & moulds)
Tool & Die Maker (press tools jigs & fixtures)
turner
Welder (fabrication & fitting)
Welder (GMAW maw & GTAW)
Welder (pipe)
Welder
Wireman
Fitter Dual Mode
Machinist Dual Mode
Welder Dual Mode
Solar Technician (electrical)
Mechanic Diesel Dual Mode
Technician Mechatronics
Turner Dual Mode
Sheet Metal Worker Dual Mode
Architectural Draughtsman
Basic Cosmetology
Catering and Hospitality Assistant
Computer-Aided Embroidery and Designing
Computer Operator and Programming Assistant
Food Production (General)
Dental Laboratory Technician
Desktop Publishing Operator
Dress Making
Fashion Design Technology
Fire Technology and Industrial Safety Management
Food Beverages Services Assistant
Footwear Maker
Health Safety and Environment
Health Sanitary Inspector
Leather Goods Maker
Litho Offset Machine Minder
Multimedia Animation Special Effect
Physiotherapy Technician
Radiology Technician
Retailing
Sewing Technology
SPA Therapy
Stenographer and Secretarial Assistant (Hindi)
Stenographer and Secretarial Assistant (English)
Surface Ornamentation Techniques (Embroidery)
Watch and Clock Repair
Front Office Assistant
HouseKeeper
Geo Informatics Assistant
Soil Testing & Crop Technician
BlockChain Expert Assistant
Sewing Technolgy Dual Mode
Finance Executive
Catering and Hospitality Assistant Dual Mode
Food Production (General) Dual Mode
Computer Operator and Programming Assistant Dual Mode
Basic Cosmetology Dual Mode
Candidates who are eligible as per the organization norms are able to fill the application form via the official website of ITI Haryana. All candidates should ensure that they are eligible to apply else the application will be rejected for any discrepancy. The routine for ITI Haryana Admission 2020 is given below.
Before applying for Haryana ITI it is suggested to all the candidates to check the eligibility criteria. As the conducting body, the Haryana Government has set the criteria under which it is necessary to check eligibility. Only the candidates who are eligible can apply for it.
The Department of Skill Development and Industrial Training, Haryana is imparting skill based training to the unemployed youth of state through the network of 166 Govt. Industrial Training Institutes (133 (Co-Ed.) GITIs and 33 GITIs for Women) and 242 Private ITIs under Craftsman Training Scheme. Engineering and Non- Engineering trade courses of one and two years duration are being run in these institutes. During current academic year 2018-19, 60544 sanctioned seats in 3540 trade units have been released for admission in GITIs and 38604 sanctioned seats in 2274 trade units have been released for admission in private ITIs. 72293 candidates admitted to Govt. & Pvt. ITIs in the session 2017-18. Admissions for session 2018-19 are in process.
В© Copyright 2018, Government of Haryana ,
Developed and hosted by National Informatics Centre,
Ministry of Electronics & Information Technology, Government of India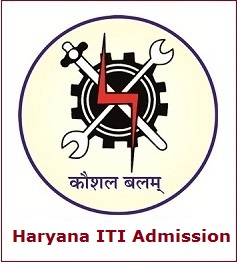 Visit the official website and download the official information brochure and read it thoroughly.
The registration for Haryana ITI 2021 application form can be submitted from last week of June 2021.
Login to the official website and click on the concerned link for applying online.
The official website of the Skill Development & Industrial Training Department, Haryana is www.itiharyana.gov.in.
Candidates need to provide personal information, educational qualification information, address for communication etc. in the application form.
You also need to upload scanned images of photograph and signature in the given dimensions and size.
Make payment of necessary application fee through online mode.
The applicants have to make payment of Rs.100 (Rs.50 in case of reserved category candidates) as application fee.
After following all these steps, re-check all the details carefully and submit the application form.
Do not forget to take the printout of the application form for future reference.
Haryana ITI Admission 2021: The candidates must know that the Department of Industrial Training (DIT) is the exam conducting authority which conducts entrance test for admission in ITI programmes. The DIT will publish a notification on its official website inviting application form for ITI courses. Candidates should obtain official notification for detailed information. Generally, applicants should have completed 8th, 10th and 12th standard based on specific course requirement. There are various ITI programme in different disciplines for which eligibility requirements are different. Interested can check important information regarding Haryana ITI Admission 2021 including eligibility criteria, application form, important dates etc. in this article below.
References:
http://examupdates.in/haryana-iti-admission/
http://www.aplustopper.com/iti-haryana/
http://haryana.gov.in/iti-haryana/index.html
http://www.careerindiainfo.in/haryana-iti-admission-2021/
http://haryana.gov.in/iti-haryana/index.html