htet 2016 exam date
HTET PGT Level 3 Exam has been cancelled and as per newspaper it has been confirmed that HTET Level 3 Exam 2015 exam paper leak and cancel. New exam date of HTET Level 3 Exam 2015 has been not released by the officials yet online.
HTET Paper Cancelled News 2015, HTET Level-3 New Exam Date 2016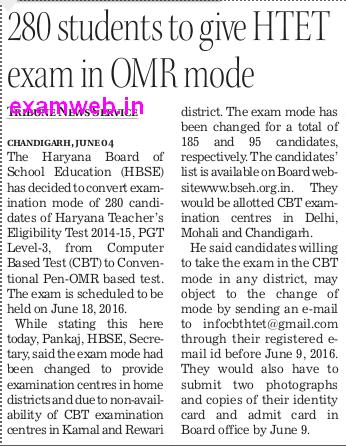 The two suspects who were recognized as Amit and RaghubirВ were arrested with mobile phone and SUV. The Police had got the information that two youngsters sitting in SUV near some Chakki Maur had HTET Answer key in their possession.
When the youths saw the police approaching towards them, they ran away in a nearby plot and threw their mobile sets. But the Police arrested them and also recovered the mobile phones from the plot.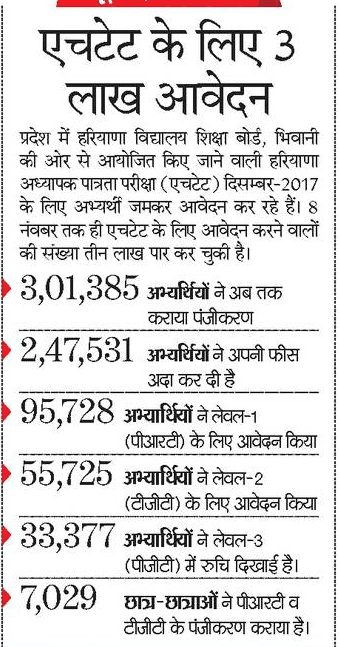 In the year 2008, the Board was notified as examining body for the conduct of "Teachers Eligibility Test" by the State Government and thereafter the Board started conducting this test with effect from the year 2008 in the name of STET (School Teachers Eligibility Test) till 2009. However after implementation of RTE Act, 2009 and issuance of notification by the NCTE in the year 2011, this examination was renamed as HTET(Haryana Teachers Eligibility Test). This test is conducted by this Board for all the three categories of school teachers i.e. Primary, TGT and PGT. in accordance with the guidelines and such other Rules/Regulations/Instructions/Policies laid down by the National Council for Teacher Education/Department of School Education, Haryana.
The test items on Child Development and Pedagogy will focus on educational psychology of teaching and learning, relevant to the age group of 14-17 years. They will focus on understanding the characteristics, needs and psychology of diverse learners, interaction with learners and the attributes and qualities of a good facilitator of learning.
The test items for language I (Hindi) will focus on the proficiency related to the medium of instruction relevant to the age group of 14-17 years.
The Language II (English) will focus on the elements of language, communication and comprehension abilities relevant to the age group of 14-17 years.
The test items in subject specific will focus on the concepts, problem solving abilities and pedagogical understanding of these subjects. The test items shall be evenly distributed over different divisions of the syllabus of that subject as prescribed for classes IX-XII by the Board of School Education Haryana.
The questions in the test will be based on the topics of the prescribed syllabus of the Board of School Education Haryana for classes IX-XII but their difficulty standard as well linkages could be upto the Post-Graduate level.
Many applicants have appeared for the same and were waiting for the HTET Result 2016. The HTET Level 3 PGT Result 2016 has been announced and the wait of the thousands of the aspirants is now over. Now you are accessible to check HTET 2016 Result and the HTET Level 3 PGT Cut off Marks 2016.
Also Check:

The Board of School Education Haryana (BSEH) had conducted the exam on June 18.
For any query, please visit the official website.
References:
http://www.examweb.in/htet-jind-paper-leaked-cancelled-breaking-news-2249
http://haryanasamanyagyan.com/htet/haryana-teacher-eligibility-test/1880/
http://www.meetuniversity.com/blog/htet-level-3-pgt-result-2016-date-and-cut-off-expected/
http://www.indiatoday.in/education-today/notification/story/htet-results-declared-official-website-331359-2016-07-26
http://www.indiatoday.in/education-today/notification/story/htet-exam-2019-new-exam-date-divd-1376653-2018-10-27