how to be a topper
Regularly Attending Classes: The key is not to tread lightly around any chapter. Be it a school lecture or a coaching class, taking part in classes actively can help you gain a lot of knowledge.
"If you fail to plan, you are planning to fail".Planning is the most important habit you should follow to become a topper. Devise plans which are more realistic and less hectic. Identify your strengths and weakness and formulate a time table accordingly. The result will be visible only if you follow the time table strictly.
Understand More and Cram Less: More thrust should be put on clearing the concepts and less on mugging up. Flowcharts, mnemonics, tables, graphs, etc are some of the creative techniques you can use to remember important details. Not only will such methods help you retain information for a longer period, but it will also make studies less monotonous.
Regular Revision: While looking for habits on how to become a topper is necessary, it is equally important to follow them. As long as you go through what you have already learned, it is called revision. But the moment you add any extra information, it is just regret. Revision not only helps toppers to retain information for a longer period but also helps them in doing a self-analysis on their preparation. Thus, giving an opportunity to work more on weaker areas.
"Practise makes a man perfect"- Solving mock papers regularly and practising previous year question papers give toppers an extra edge. It not only helps gives you the real exam feel but also helps you analyze the areas in which you lag. Further, exams follow a specific paper pattern. Following this habit will thus help you improve your speed and accuracy.
Pranjali Patil, India's first visually-impaired IAS officer has recently become a household name. Out of lakhs of students who appeared for one of the most coveted exams of India, the Civil Services Exam, Pranjali made it to the top. The question is, how? In the words of Narayan Sharma – "I was believed to be an underdog In the game that we played. Little did they know, I was a dark horse in the race that they craved". With more students taking part in various examinations, the level of competition has increased. And thus, to win a race, you have to be the best out of the rest. In this blog, we will discuss some tips and tricks on how to become a topper.
Sample/Previous years' papers:
The key to cracking an exam is understanding its pattern and regular question types. Most of the entrance exams do not change the standard of their questions and the question paper pattern. Many hardly even change most of their questions.
Believe in yourself:
Working hard is important, but the true soul of a topper's preparation is his belief in himself. This is one of the best habits of toppers. Have the confidence to tell yourself that you have what it takes and can crack the exam with a good score, everyday. Such self motivation is always a mood booster and will help you get through the storm.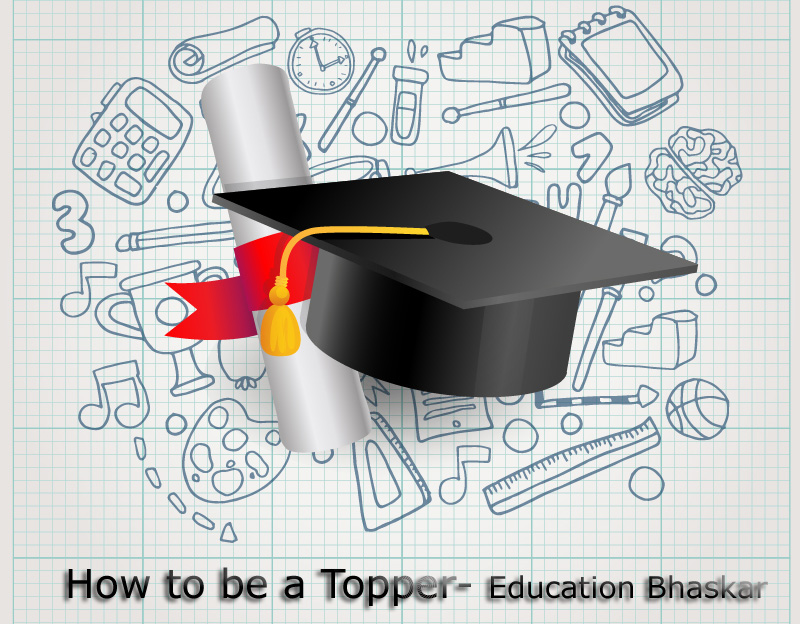 Why does this world quantitatively has such a large amount of average students? Becuase they are dumb? The answer is No. Most people are dumb because they choose to remain stupid. It's not an affliction. You have to understand, to get better in anything, the one only thing you need to do is practice. Practice in itself includes hard work. Because you have not consciously chosen anything in your life yet. Why do you think older guys and men always say,"on, at your age, use used to do the same mistake." Becuase they actually have. They are not saying it to be cool in front of you; they are stating a fact being cool in reality is actually being like everybody else sadly there's nothing cool about being cool in reality everybody else. So be careful about what you're doing which you may think is unique and cool, it isn't. So always do the study with an interest.
The moment you were put into the category of average students by your teacher or some authority. You didn't have a problem with the term average. It did not ignite a fire in your chest. The problem is that most of you have accepted that you are an average student, and the common basis, that's how refers to yourself. Think, How can you be a topper if you've already accepted you are mediocre. Reject it. Anyone don't get to decide who you are, you do. Put yourself on the top, that's where you belong.

I am satyam verma.Here,I am giving you some tips that will not only lead you to success but also help you maintain desired position in your class.
You are at the right place if you want to be topper of your class .I slightly know what you are looking for.Being a topper is niether a big deal nor a rocket science as everyone could be a topper by practicing a few tips daily .

Make the best use of technology.Wherever necessary,you can learn through readily available PPTs and video lectures,3-D diagrams and animations will be of great help to understand the concepts.But precaution must be taken not to spend more time on these materials and not to get distracted.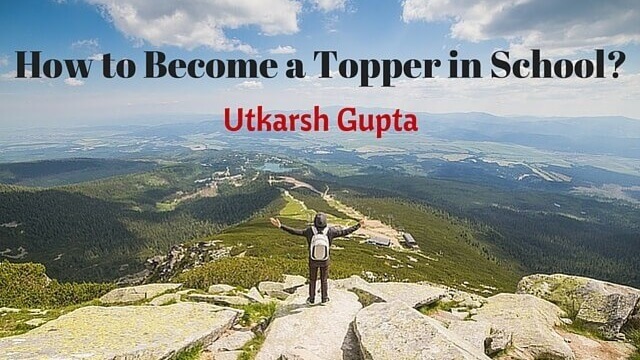 Before all the strategy I would like you to believe in yourself as the first & the most important step towards success is the feeling that we can succeed.
Always solve questions after studying a topic and if you're unable to solve then go back to the topic instead of understanding from the solution page.
References:
http://www.toppr.com/bytes/20-habits-of-toppers/
http://educationbhaskar.com/how-to/be-a-topper/6033/
http://www.blog-city.info/en/topper.php
http://mystudycart.com/blog/become-topper-school/
http://www.blog-city.info/en/topper.php